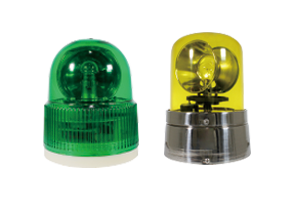 Bulb Style Rotational Reflector Warning Light
---
View Catalog
Bulb Style Rotational Reflector Warning Light
Freely adjustable rotation speed with built-in volume switch
Can be used to indicate device malfunction, material supply & stop signals, and signal transmission in automated line.
Outer diameter 100Φ / 125Φ / 150Φ / 180Φ.
There are four color types by model
User options are available, such as high luminance, vehicle magnet type, etc.
Icon Description and Product Configuration
Icon Description
Light Source
Operation
Sound
Option

Incandescent bulb
LED Light
Xenon Light

Steady type
Flashing type
Rotation type
Strobe

Maximum volume
Buzzer
Siren sound
Melody
Voice

Magnet mounted type
High luminance
Protective net
---