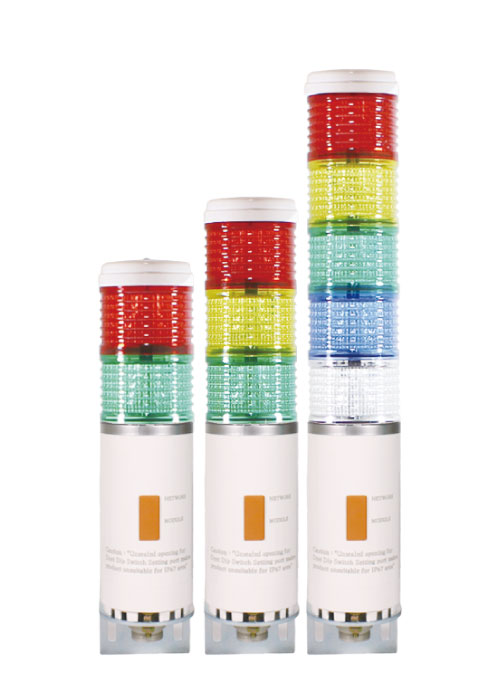 Device Net Signal Tower Light



View Catalog
Device Net Signal Tower Light
Direct connection to network without separated I/O terminal for device net
Convenient to install and easy to maintain due to the smaller installation space and reduced wires.
Controlled by PLC device net master
Set the address (MAC ID) and communication speed with built in DIP switch
Supports all communication speeds (125kbps, 250kbps, 500kbps)in device net, and also supports automatic speed setting for convenient use.
Maximum volume : 90dB (it may be measured lower than the actual decibel depending on the surroundings)
Size : Ø58
Materials: LENS [GPPS] / Body[ABS] / Reflector[PC] / POLE[Aluminum]
Operating Temperature : -25℃ ~ +50℃
---
Product specifications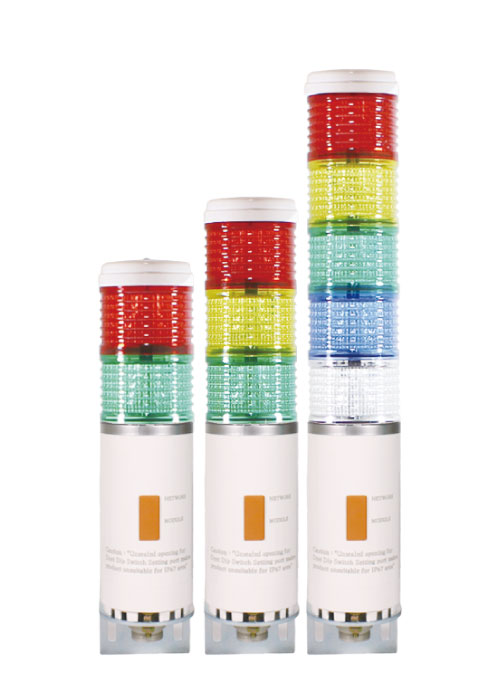 AUT-DN
Ø58mm Device Net Signal Tower Light
Timbre : Buzzer
Steady Type / DC24V Only
Color :

1 layer : (1L) RED

(R) ●

2 layer : (1L) RED

(R) ●

(2L) Green

(G) ●

3 layer : (1L) RED

(R) ●

(2L) Yellow

(Y) ●

(3L) Green

(G) ●

4 layer : (1L) RED

(R) ●

(2L) Yellow

(Y) ●

(3L) Green

(G) ●

(4L) BLUE

(B) ●

5 layer : (1L) RED

(R) ●

(2L) Yellow

(Y) ●

(3L) Green

(G) ●

(4L) BLUE

(B) ●

(5L) WHITE (W) ○

Color moving by layer is possible
Mount using the exclusive bracket
■ AUT-DN Device Net Signal Tower Light
Specifications
Model
Layer
Voltage
Height
Weight(g)
Device Net
AUT-DN
1 layer (

(R) ●

)
DC 24V
210.5mm
368g
2 layer (

(R) ●

,

(G) ●

)
252mm
405g
3 layer (

(R) ●

,

(Y) ●

,

(G) ●

)
293.5mm
442g
4 layer (

(R) ●

,

(Y) ●

,

(G) ●

,

(B) ●

)
335mm
479g
5 layer (

(R) ●

,

(Y) ●

,

(G) ●

,

(B) ●

(w) ○ )
379.5mm
516g
Device Net?
Advantages of Device Net Signal tower
Direct connection to network with built-in device net communication function (power line and signal line are integrated into single cable )
Saved space
Reduced wiring
Convenient installation & maintenance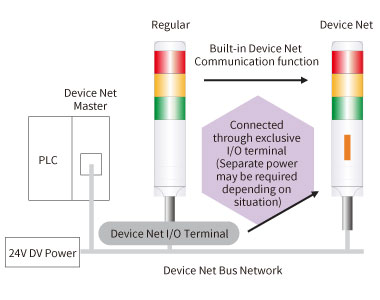 Device net is a field bus for easy access among control devices such as PLC, PC, sensor, and actuator. Saves wiring cost, reduces the potential for wiring errors, is easy to maintain, and can be used for real-time control. It is CAN-based and strong on noise. As it allows mutual access among devices from different vendors, it enables more economical system establishment. Can remove a connected device from the network without stopping the whole network. An open style field that is used for a wide range of purposes.
Other data
---