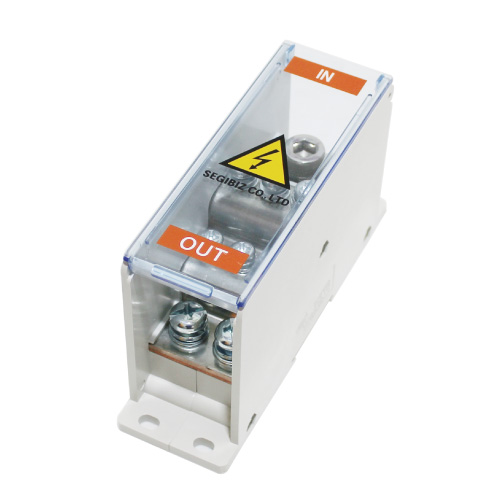 Power Distribution Terminal Block


View Catalog
Capacity 100A / 200A /400A available
There are 4P/6P/8P
It can be used efficiently even in a narrow space with a more compact size than the conventional model.
Hinged protective cover prevents accidents such as electric shock in advance
Installation and maintenance are convenient as screw connection and channel mounting are possible on the main body.
Certificates :
The terminal block type is economical with a small size, and it can be used conveniently by improving work efficiency. It can be directly mounted on the product body in a narrow space or used by mounting on a standard 35mm Din-rail, and each consists of 1 input terminal and 4~8 output terminals. Using heat-resistant material, it is resistant to impact and heat, and the busbar is plated with tin with 99.9% copper, so it has higher conductivity than brass, so users can use it safely and conveniently according to their application.
Nomenclature

① Product name : : Power Distribution Terminal Block
② Rated current : 100A / 200A / 400A
③ The Number of terminals : 4P / 6P / 8P
Product specifications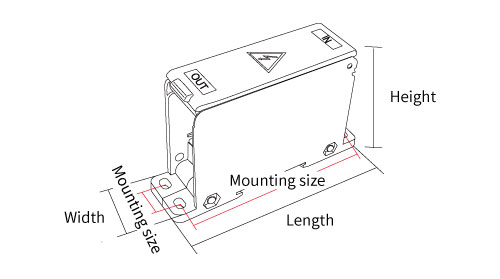 Rated current : 100A / 200A / 400A
Rated voltage : 600V
Pitch : 20mm / 30mm / 40mm
Tolerance : ± 1mm
Operating Temperature :-20℃ ~ 110℃
Materials :heat-resistant material / Polycarbonate (Cover)
Busbar : 99.9% CU + Tin plated
SG-PD-100A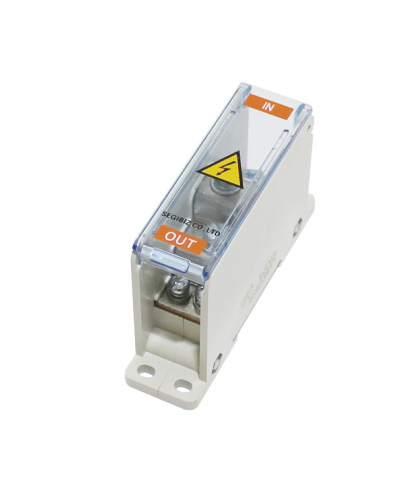 View Pictures
Model

SG-PD-100-4P
SG-PD-100-6P

Rated voltage / current

600V /100A

Pitch

20mm

IN Screw

M6

OUT Screw

M4 X 2 , M5 X 2
M4 X 6

Busbar Size

3T X 20mm

Product Size

24mm x 95mm x 58mm

Mounting Size & hole

85.5mm x 12.4mm / Φ4.5

Weight(g)

104g
SG-PD-200A
View Pictures
Model

SG-PD-200-4P
SG-PD-200-6P
SG-PD-200-8P

Rated voltage / current

600V / 200A

Pitch

30mm

IN Screw

M8

OUT Screw

M5 X 2 , M6 X 2
M5 X 6
M4 X 6 , M5 X 2

Busbar Size

3T X 30mm

Product Size

34mm x 95mm x 58mm

Mounting Size & Hole

85.5mm x 17.4mm / Φ4.5

Weight(g)

165g
163g
SG-PD-400A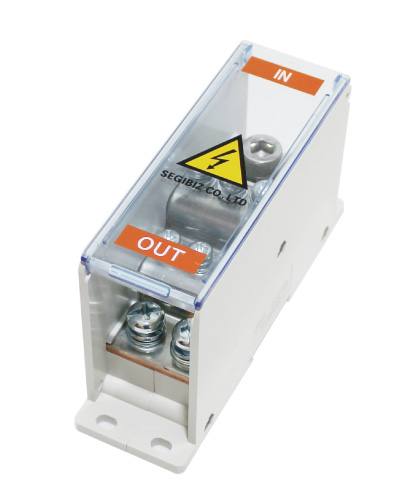 View Pictures
Model

SG-PD-400-6P
SG-PD-400-8P

Rated voltage / current

600V /400A

Pitch

40mm

IN Screw

M10

OUT Screw

M8 X 6
M8 X 2 , M6 X 6

Busbar Size

4T X 40mm

Product Size

45mm x 148mm x 80mm

Mounting Size & Hole

137mm x 22mm / Φ5.5

Weight(g)

419g
403g