① Product name : Multi Switch Box
② Hole size : 12Φ / 16Φ / 22Φ / 25Φ / 30Φ /
③ The number of holes : 1 hole / 2hole / 3hole / 4hole / 5hole/ 6hole
③ Product type : M / MA / A / B / C / D / E
Product feature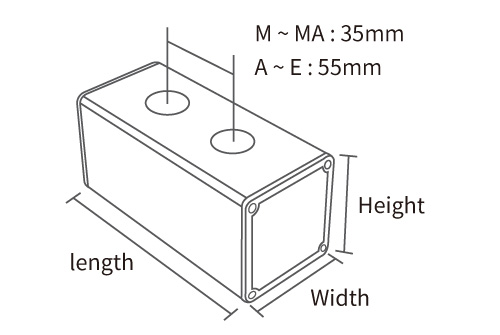 Made of aluminum profile, lightweight and sturdy.
There are 7 different types in total, and can be used for various purposes such as length, perforation, laser nameplate marking, etc. upon request from the customer.
Connection and installation are possible by opening the box easily with only two bolts.
Since the product has a basic hole, it can be easily used as a switch box without any separate process, and laser nameplate work is possible on the product itself.
View Catalog
Product specifications
Color : Body – Gray / Side plate – Orange
Tolerance : ± 1mm
Thickness : 1.2T ~ 1.6T
Operating Temperature : -20℃ ~ 70℃
Materials : Aluminum Profile /abs ( Side plate )
---
Hole
Model
Size (mm)
Type
Width
Height
length
1 hole
M
50mm
50mm
70mm
MA
50mm
70mm

SG-MS-2201
SG-MS-2501
SG-MS-3001

A
70mm
50mm
90mm
B
70mm
70mm
C
70mm
90mm
D
90mm
70mm
E
90mm
90mm
2 hole
M
50mm
50mm
105mm
MA
50mm
70mm

SG-MS-2202
SG-MS-2502
SG-MS-3002

A
70mm
50mm
145mm
B
70mm
70mm
C
70mm
90mm
D
90mm
70mm
E
90mm
90mm
3 hole
M
50mm
50mm
140mm
MA
50mm
70mm

SG-MS-2203
SG-MS-2503
SG-MS-3003

A
70mm
50mm
200mm
B
70mm
70mm
C
70mm
90mm
D
90mm
70mm
E
90mm
90mm
4 hole
M
50mm
50mm
175mm
MA
50mm
70mm

SG-MS-2204
SG-MS-2504
SG-MS-3004

A
70mm
50mm
255mm
B
70mm
70mm
C
70mm
90mm
D
90mm
70mm
E
90mm
90mm
5 hole
M
50mm
50mm
210mm
MA
50mm
70mm

SG-MS-2205
SG-MS-2505
SG-MS-3005

A
70mm
50mm
310mm
B
70mm
70mm
C
70mm
90mm
D
90mm
70mm
E
90mm
90mm
6 hole
M
50mm
50mm
245mm
MA
50mm
70mm

SG-MS-2206
SG-MS-2506
SG-MS-3006

A
70mm
50mm
365mm
B
70mm
70mm
C
70mm
90mm
D
90mm
70mm
E
90mm
90mm