---
The plastic pushbutton box is made in three colors: red, yellow, and white. Plastic pushbutton boxes are especially frequently used in emergency stop switches, and are more safe to use with bright, vivid colors when used as emergency switches. It is designed to be durable and easy to install using PC materials. It is also oil-resistant and easy to clean, and the color is not discolored, making it safe and convenient to use.
Nomenclature

① Product name : Plastic Push Button Box
② Hole size : NO-hole / Φ22 / Φ25 / Φ30
③ The number of holes : 1hole / 2hole / 3hole / 4hole
④ Height : 55mm / 70mm
⑤ Cover Color : RED / YELLOW / WHITE
Product feature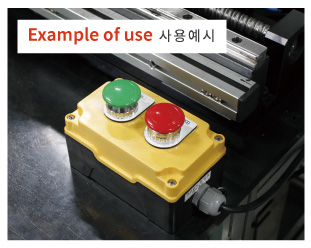 There is a hole(Φ22 / Φ25 / Φ30) in the cover so that the switch can be installed without a separate process.
Three colors for possible choice.
UL approved product

Certificates :
View Catalog
Product specifications
Color : Base- Black / Cover- Red / Yellow / White
Tolerance : ± 1mm
Operating Temperature : -20℃ ~ 110℃
Materials : Polycarbonate
---
※ There are only 1 and 2 hole of mini type.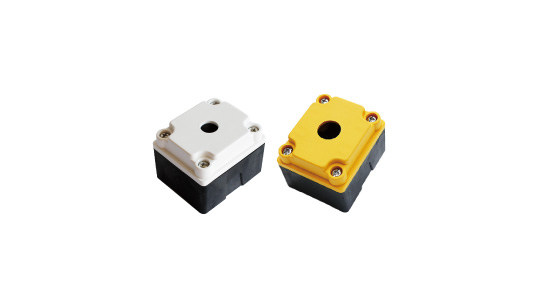 MINI 1 hole
Size(mm) : 51 x 60 x 45
Cover Color :Yellow , White
Hole size : 12Φ ,16Φ
Weight(g) : 139g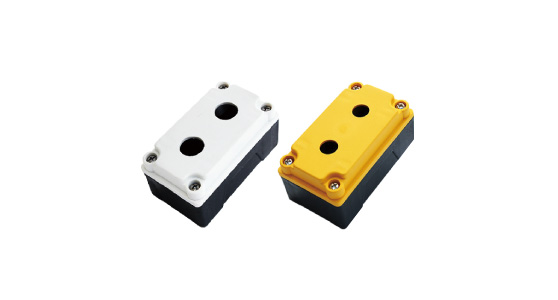 MINI 2 hole
Size(mm) : 51 x 95 x 45
Cover Color :Yellow , White
Hole size : : 12Φ ,16Φ
Weight(g) : 157g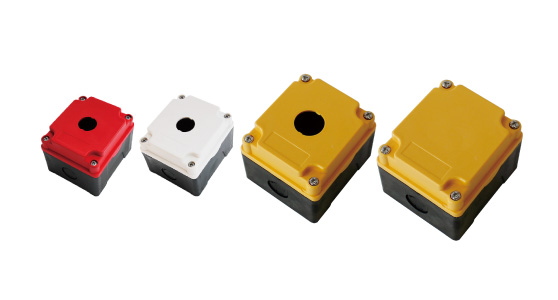 1hole
Size(mm) :90x80x55/90x80x70
Hole size :No-Hole/22Φ/25Φ/30Φ
Cover Color :Red,Yellow,White
Weight(g) :178g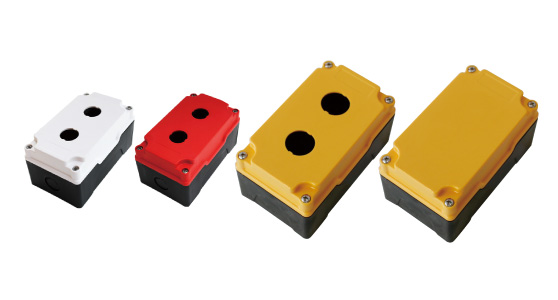 2hole
Size(mm) :135x80x55/135x80x70
Hole size :No-Hole/22Φ/25Φ/30Φ
Cover Color :Red,Yellow,White
Weight(g) :231g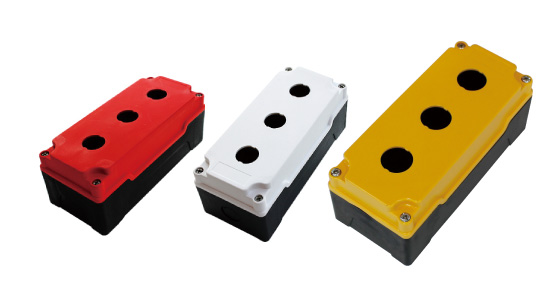 3hole
Size(mm) :180x80x55/180x80x70
Hole size :22Φ/25Φ/30Φ
Cover Color :Red,Yellow,White
Weight(g) :253g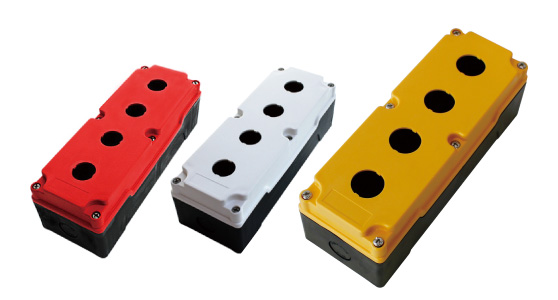 4hole
Size(mm) :220x80x55/220x80x70
Hole size :22Φ/25Φ/30Φ
Cover Color :Red,Yellow,White
Weight(g) :303g
Hole
Φ
Model
Size(mm)
Weight(g)
MINI 1hole
12Φ
SG-PB-1201
51 X 60 X 45
139g
16Φ
SG-PB-1601
MINI 2hole
12Φ
SG-PB-1202
50 X 95 X 45
157g
16Φ
SG-PB-1602
1hole
무타공
SG-PB-0001
90 X 80 X 55
90 X 80 X 70
178g
22Φ
SG-PB-2201
25Φ
SG-PB-2501
30Φ
SG-PB-3001
2hole
무타공
SG-PB-0002
135 X 80 X 55
135 X 80 X 70
231g
22Φ
SG-PB-2202
25Φ
SG-PB-2502
30Φ
SG-PB-3002
3hole
22Φ
SG-PB-2203
180 X 80 X 55
180 X 80 X 70
253g
25Φ
SG-PB-2503
30Φ
SG-PB-3003
4hole
22Φ
SG-PB-2204
220 X 80 X 55
220 X 80 X 70
303g
25Φ
SG-PB-2504
30Φ
SG-PB-3004