---
The heat-resistant aluminum terminal box uses a heat-resistant terminal stand in a box made of aluminum castings, making it more heat-resistant than other terminal boxes, allowing it to be used in higher. It is made of standard rating like the existing our aluminum terminal box, has excellent waterproof and dust proof effects, and is made of the various size, so it can be used in multiple industrial facilities that require heat-resistance.
Nomenclature

① Product name : Heat-resisting Aluminum Terminal Box
② The number of pin : 4-50 Pin
Product feature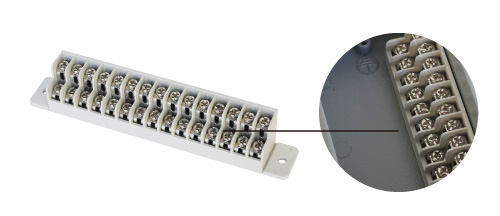 Heat-resistant terminals can be used up to 400°C temperatures.
Works in a more hot environment than the AL aluminum series.

Certificates :
View Catalog
Product specifications
Color : Gray / Terminal Block : Ivory
Tolerance : ± 1mm
Thickness : 3.5T ~ 4T
Operating Temperature : -20℃ ~ 180℃
Protection rating : IP67 / NEMA 12
Materials: Aluminum , heat-resistant material( Terminal Block )
※ The aluminum terminal heat-resistant box drawing is the same as the basic aluminum box drawing.